PHA sustainable biopolymer
The time to make a difference is now
Polyhydroxyalkanoates (PHAs) are a unique material. Derived from nature and produced sustainably, they can be used as building blocks replacing and improving the functional characteristics of a broad range of polymers in the production of finished goods or as starting points for sustainable chemistry.
Enhancing functionality and sustainability
CJ Biomaterials is a global leader in the manufacture of PHAs. Today, we are  committed to impactful action delivering eco-friendly solutions with our extensive PHA technology platform. CJ Biomaterials can sustainably produce customized crystalline, semi-crystalline, and amorphous polymer structures.
The raw materials for our sustainable biopolymers are sugars sourced from plants like sugar cane, tapioca, corn and cellulosic biomass. CJ Biomaterials can increase PHA content in microorganisms from about 5% accumulation in the wild, up to 85% through fermentation via engineered microbial strains. We employ advanced downstream technology for the extraction of PHA components and the manufacture of specific products.
PHAs work well as modifiers to other polymers or biopolymers and can be used to increase bio-based content, accelerate biodegradation and improve the functional properties of resins and finished products. Today, we develop custom blends using PHA polymers with other polymers – most notably other biopolymers. These PHA-based products can be compounded and processed using conventional plastics-processing equipment.
CJ Biomaterials is continually developing products for different applications. Our product portfolio will continue to grow as markets and applications expand.
Broad end-of-life options and disappears without harming nature
CJ Biomaterials markets its products under the PHACT™ brand.
PHACT combines "PHA + Act" which reflects CJ Biomaterials' commitment to "Protecting our environment with a path to zero waste".
"Bring a New Wave" embodies the role and vision of PHA as well as the unique marine biodegradation properties of PHAs.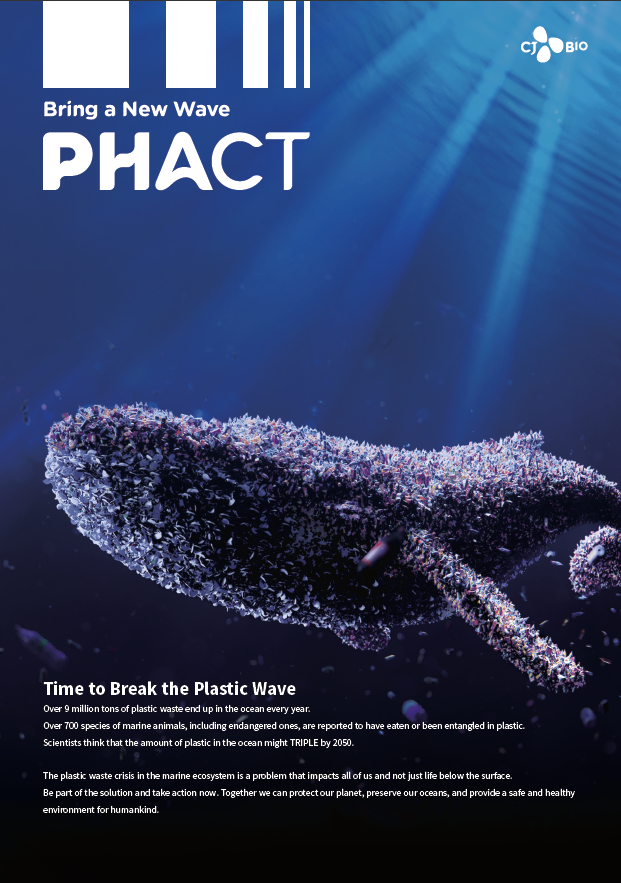 There are many applications for PHA, including rigid and flexible packaging, compost bags, agricultural, organic waste management, coatings and adhesives, personal care and healthcare markets. PHA and PHA-inclusive compounds can be used in traditional plastic manufacturing environments. Typical uses include:
There are many applications for PHA, including rigid and flexible packaging, compost bags, agricultural, organic waste management, coatings and adhesives, personal care and healthcare markets. PHA and PHA-inclusive compounds can be used in traditional plastic manufacturing environments. Typical uses include: