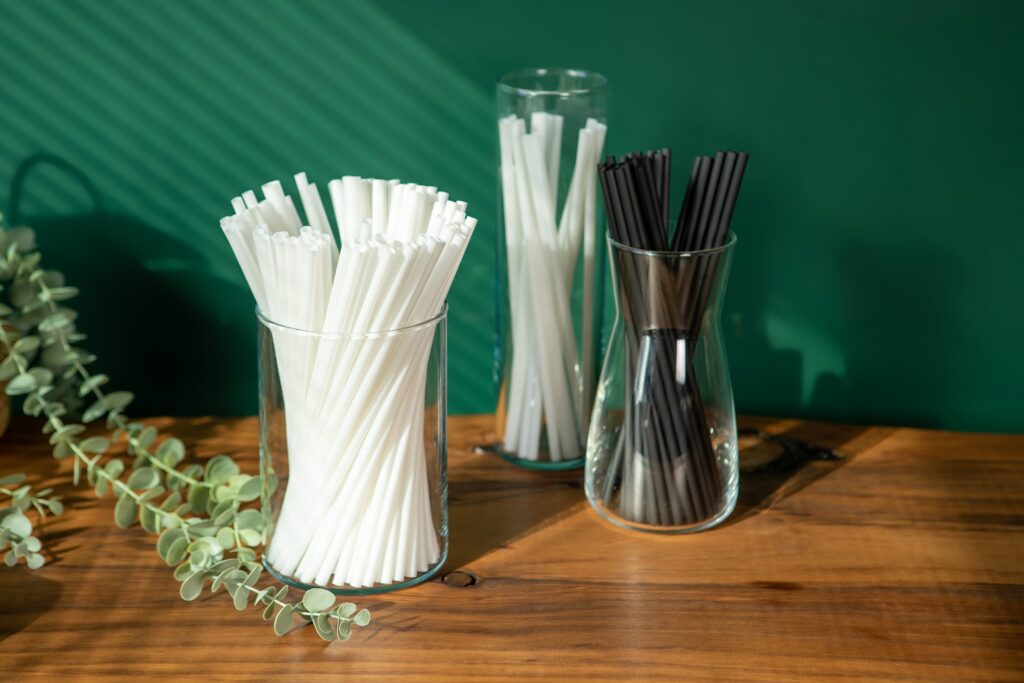 CJ Biomaterials' PHACT™ PHA technology integrated with Dongil Platech's manufacturing technology to commercialize 100% biobased straw
Woburn, MA – 23 May 2023 – CJ Biomaterials, Inc., a division of South Korea-based CJ CheilJedang and a primary producer of polyhydroxyalkanoates (PHAs), has partnered with South Korea-based Dongil Platech to develop a new eco-friendly straw using polylactic acid (PLA) and CJ Biomaterials' PHACT™ amorphous polyhydroxyalkanoate (aPHA) biopolymer technology.
CJ Biomaterials was the first company in the world to produce amorphous PHA, which is a softer, more rubbery version of PHA that offers fundamentally different performance characteristics than crystalline or semi-crystalline forms of the biopolymer. It is a bio-based material that is TUV OK Certified for industrial and home compost, soil biodegradable and marine biodegradable. When combined with other biopolymers, like PLA technology, it helps improve a product's rate of biodegradation. Dongil Platech's new eco-friendly straw is made from sustainably sourced natural ingredients from corn and sugar cane that are free from environmental hormones and heavy metals.
"We are proud our innovative amorphous PHA technology is helping to commercialize a 100% biobased solution adding functional performance value while also decoupling from fossil fuel feedstock. Our partnership with Dongil Platech has resulted in a 100% biobased straw that will have a positive impact on the environment, and we look forward to continuing to develop new sustainable solutions for the market," says Max Senechal, Chief Commercial Officer at CJ Biomaterials.
The use and subsequent discarding of straws presents a significant challenge to the environment. In the U.S. alone, 500 million plastic straws are used and discarded each day, eventually ending up in landfills and oceans, according to Habits of Waste. The biobased and industrial compostable straw developed by Dongil Platech provides benefits to our environment by using non-fossil fuel feedstock, and when it reaches its end-of-use it can be converted into a valuable soil amendment through industrial compost rather than landfill.
"Combining our extrusion technology with CJ Biomaterials' amorphous PHA we have developed an eco-friendly product We expect that commercialization of the straws applied with PHA will contribute to solving the problem of plastic pollution in the ecosystem," says Ji-Hyun Kim, CEO, Dongil Platech.
The new biodegradable straw from Dongil Platech is currently available for purchase in South Korea, and from the Dongil Platech website at http://ow.ly/z1TE50NQWHy.
For more information on CJ Biomaterials, visit: https://www.cjbio.net/en/products/cjPha.do.
About CJ BIOMATERIALS
Headquartered in Woburn, MA, USA, CJ Biomaterials develops meaningful solutions that positively affect our planet, human health and well-being by addressing the challenges posed by plastic waste. The company invents and manufactures biopolymers and bio-based chemicals as part of a long-term vision to create a more sustainable future, by enabling true circular solutions that replace many non-recyclable, non-reusable and fossil fuel-based plastics and chemicals.  CJ Biomaterials is a global leader in the manufacture of polyhydroxyalkanoates (PHAs) – both polymers and associated basic chemicals. CJ Biomaterials, a business unit of CJ BIO, is part of CJ CheilJedang, a global lifestyle company with a vision to inspire a new life filled with health, happiness, and convenience.
Media Contact
Resource Advantage
Dan Green
dgreen@resourceadvantage.com
Company Contact
CJ Biomaterials
Heidi Lebel
cj.biomaterials@cj.net