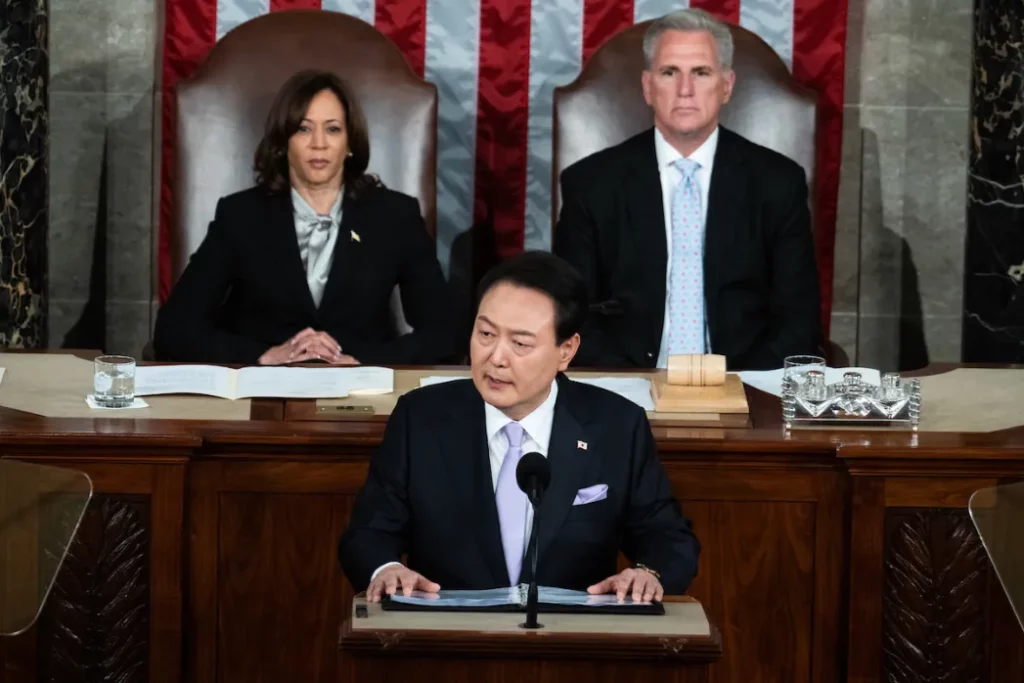 CJ Group, the parent company for CJ Biomaterials, has invested more than $5 billion in the US in recent years.
September 1, 2023 issue of Roll Call
One of the hallmarks of American leadership is its steady commitment to building strong military and economic alliances over many decades. Across Republican and Democratic administrations, often out of the public eye, through hard work and negotiation, Washington and its partners have advanced the growth and security of free-market economies that together drive the world economy.
The U.S.'s strategic relationship with South Korea stands as a good example of this. In the Asia-Pacific theater, South Korea now stands as a major economic ally and driver of global growth.
It's why we've seen current and past South Korean presidents as guests of two official state visits in Washington the past three years, with President Yoon Suk Yeol attending in April and former President Moon Jae-in in spring 2021. Most recently, we saw the unprecedented trilateral meeting at Camp David with President Joe Biden, South Korean President Yoon, and Japanese Prime Minister Fumio Kishida.
Korea's largest and most influential companies, plus U.S consumers and workers, are seeing the benefits of this tight alliance. Many South Korean manufacturers, including Hyundai Motor, Kia, LG, Samsung and SK Hynix, a major computer chip manufacturer, have become household names to U.S. consumers.
Hyundai Motor is building a new $8.5 billion electric vehicle factory in Georgia. Samsung is building a $17 billion computer chip factory in Austin, Texas. A division of Hanwha has announced a $2.5 billion investment in Georgia for solar technologies. LG recently said it would quadruple its investment in Arizona in an electric battery factory and facility to manufacture energy storage systems. SK Hynix is looking at sites in the United States to build new computer chip packing factories — which put computer chips into modules that then are placed into machines.
But South Korean investment goes well beyond durable goods and electronics. In fact, the U.S. is now the top destination for South Korean foreign direct investment and South Korea is one of the top 15 foreign investors in the United States. Driving this investment are Korean companies operating in equally important but less obvious sectors such as food, logistics, agriculture and even in Hollywood movies and television.
One such company is CJ Group. Though not yet a household name, CJ Group has invested more than $5 billion in the United States in recent years. Its businesses operating in the U.S. employ more than 13,000 people. Sometimes without even knowing it, millions of American consumers enjoy popular food products, receive goods at their doorstep, and watch entertaining TV programs because of CJ Group's U.S. presence.
The most recent CJ investment is an up to $457 million joint venture with a South Korean government entity to develop three strategic logistics centers in the United States to serve as global hubs, facilitating the movement of goods, especially between the two countries, and within the 50 states. Meanwhile, CJ has invested more than $440 million in its CJ BIO operation in the American heartland, in Iowa, making livestock feed products for the beef and pork industries.
In 2019, CJ concluded a $1.84 billion acquisition of Minnesota's Schwan's Company — a major manufacturer of frozen food products, and the businesses have integrated to produce pizza, desserts and new lines of Korean foods. CJ Foodville, another affiliate, just announced a $45 million factory in Georgia that will create 285 jobs and produce goods for its chain of Tous Les Jours bakeries across the United States.
In a sign of growing cultural investment, CJ bought Hollywood's Endeavor Content for $785 million last year, injecting some much-needed capital into a writer-strike-plagued Hollywood. A soft-power superhighway runs between the United States and South Korea, as Korean audiences have long enjoyed American blockbusters while Korean dramas and TV shows now routinely rank among the most-viewed on U.S. streaming services, such as "Squid Game." From an entertainment perspective, the two countries "grok" each other.
The South Korean investment in America has gotten the notice of Congress, too, where members of the Senate in June formed a new bipartisan South Korea Caucus. Sen. Jon Ossoff, D-Ga., a co-founder of the caucus, has led two economic development missions to South Korea in the past two years, enticing more Seoul investment into the Peach State from Hyundai, Hanwha and SK.
The increasingly volatile nature of the geopolitical landscape is influencing how nations and global companies align on economic priorities. American corporations are looking to diversify their international operations and supplier base away from less-friendly nations and toward more predictable and closer ones. This process — called "friend-shoring" and "near-shoring" — has become commonplace in Washington economic policy discussions. U.S. states that once rolled out the welcome mat for foreign investors are becoming more selective about which foreign countries they are allowing to buy and build in the United States.
South Korea understands this and is stepping up to the plate to aid U.S. manufacturers in keeping U.S. supply chains moving smoothly and safely. It is a significant development from a major Asian ally brought about by the long-standing commitment the United States has made to Seoul over seven decades.
Patrick B. Pexton, a longtime journalist covering defense and foreign policy for outlets such as National Journal and CQ Roll Call, teaches at the Johns Hopkins School of Advanced International Studies in Washington.
Learn more about CJ's current and plans for future investment in the US in this article in September 1 issue of Roll Call:
https://rollcall.com/2023/09/01/seoul-helps-pave-a-soft-power-superhighway/
Company Contact
CJ Biomaterials
Heidi Lebel
cj.biomaterials@cj.net