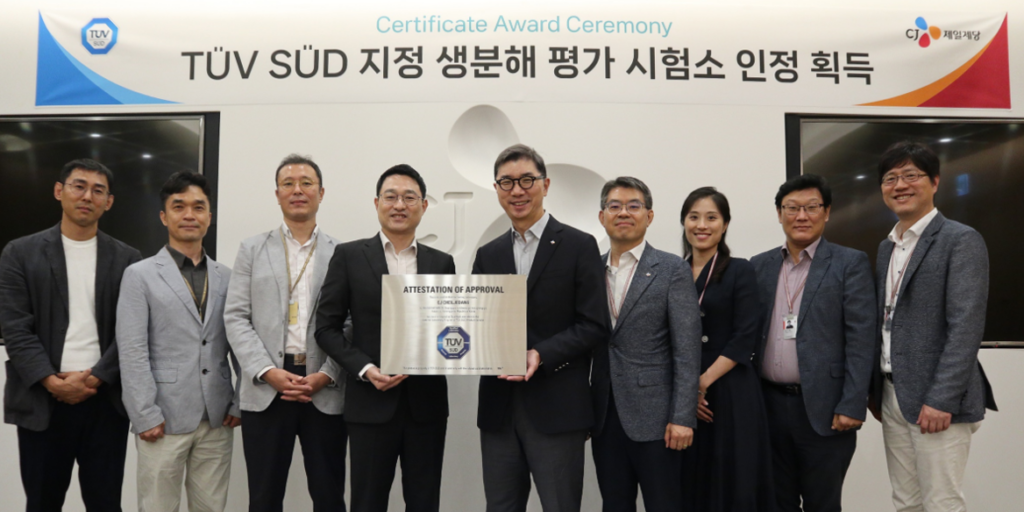 CJ CheilJedang held a ceremony at CJ Blossom Park in Suwon, Gyeonggi-do, earlier this month to award CJ CheilJedang with its TÜV SÜD Accredited Testing Facility for Biodegradability' certificate.
Certification will reduce time, costs involved with certifying CJ Biomaterials polyhydroxyalkanoate-based solutions
Woburn, MA – 10 August 2023 – CJ Biomaterials, Inc., a division of South Korea-based CJ CheilJedang and a primary producer of polyhydroxyalkanoate (PHA) biopolymers, announced today that CJ Blossom Park, the largest food and bio convergence research center of its kind in Korea, has received lab accreditation for "Acceptance of Client Testing (A.C.T)" from TÜV SÜD and is now a Designated Testing Laboratory. Having this certification allows CJ Blossom Park to perform its own biodegradability testing and to complete the TÜV SÜD's "Industrial Compost" certification process, cutting in half the cost and time needed to gather data to apply for and obtain TÜV SUD's biodegradable certification for various biomaterial products, including PHA technology developed by CJ Biomaterials.
Based in Germany, TÜV SÜD is a global organization that offers testing, inspection, certification and advisory services to companies in various industries, including automotive, aerospace, energy, healthcare, industrial consumer products, chemical, and medical devices. Before granting certification, TÜV SÜD evaluates an organization's analytical capabilities according to strict, internationally recognized standards.
A ceremony held at CJ Blossom Park in Suwon, Gyeonggi-do, earlier this month to award CJ CheilJedang with its TÜV SÜD Accredited Testing Facility for Biodegradability' certificate, was attended by Seung-Jin Lee, Head of the Biomaterials Business from CJ CheilJedang, and Seo Jung-wook, CEO of TÜV SÜD Korea.
"By securing this cc, CJ CheilJedang has demonstrated that our R&D facilities and analytical capabilities meet the highest global standards," says Lee. "It also clearly indicates to our customers and partners that we are committed to quickly developing solutions based on biodegradable materials, including PHA, and bringing them to market for use in various fields in a cost-effective manner."
By receiving accreditation as a designated TÜV SÜD testing laboratory, CJ CheilJedang will actively support biodegradability testing for products that are in high demand for biodegradation certification, such as food packaging, food service ware and cosmetic containers. The company also plans to expand the scope of testing to include 'Home Compost' in the future.
About CJ BIOMATERIALS
Headquartered in Woburn, MA, USA, CJ Biomaterials develops meaningful solutions that positively affect our planet, human health and well-being by addressing the challenges posed by plastic waste. The company invents and manufactures biopolymers and bio-based chemicals as part of a long-term vision to create a more sustainable future, by enabling true circular solutions that replace many non-recyclable, non-reusable and fossil fuel-based plastics and chemicals. CJ Biomaterials is a global leader in the manufacture of polyhydroxyalkanoates (PHAs)–both polymers and associated basic chemicals. CJ Biomaterials, a business unit of CJ BIO, is part of CJ CheilJedang, a global lifestyle company with a vision to inspire a new life filled with health, happiness, and convenience.
Media Contact
Resource Advantage
Dan Green
dgreen@resourceadvantage.com
Company Contact
CJ Biomaterials
Heidi Lebel
cj.biomaterials@cj.net