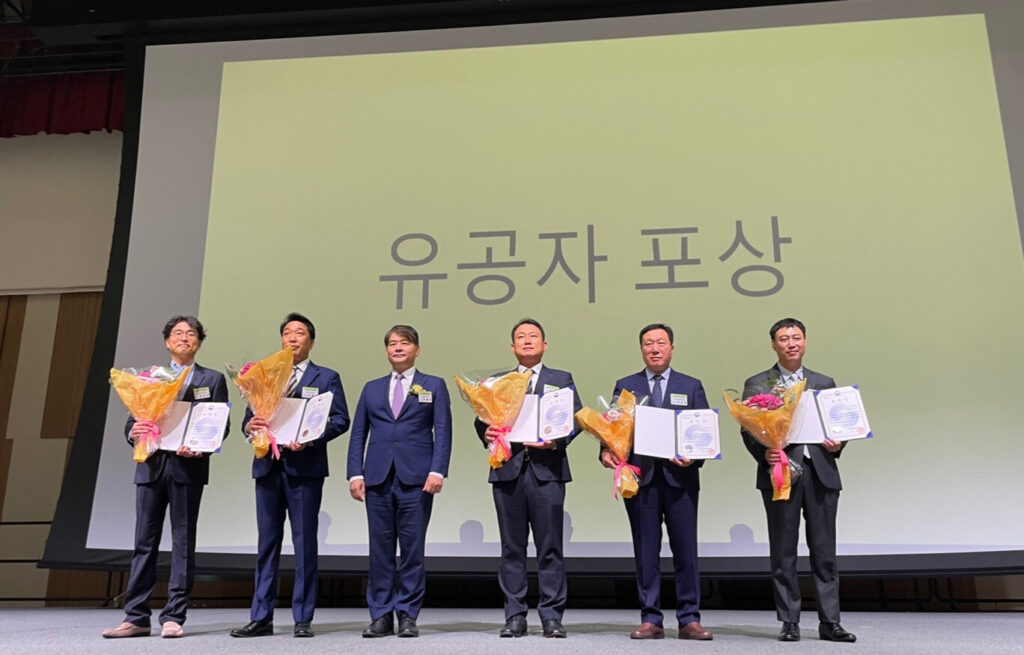 Woburn, MA – 26 September 2023 – CJ Biomaterials, Inc., a division of South Korea-based CJ CheilJedang and a primary producer of polyhydroxyalkanoate (PHA) biopolymers, announced today that the Sang Gwon (Simon) Moon, Director of Government Affairs and Product Planning at CJ Biomaterials, was recognized with a Merit Award from the Korean Ministry of Trade, Industry and Energy (MOTIE) during a special ceremony at the 2023 Biodegradable Plastic Conference held in Incheon, South Korea.
Organized by MOTIE and Incheon Metropolitan City, the event serves as a platform for thought leaders from the biodegradable plastics industry to converge and exchange insight on the latest global trends and regulatory policies. CJ Biomaterials' parent company CJ CheilJedang co-exhibited at the event with CJ HDC Biosol to promote the advancements our organization is making with biodegradable plastic, including polyhydroxyalkanoate (PHA) biopolymers, which are naturally derived and produced sustainably to be used as building blocks to replace and improve the functional characteristics of a broad range of polymers in the production of finished goods or as starting points for sustainable chemistry. Moon was honored for his active involvement in the Ministry and the contributions he has made to promote the biodegradable plastic industry and technology development in Korea.
"We congratulate Simon on this well-deserved recognition from the Korean Ministry of Trade, Industry and Energy," says Max Senechal, Chief Commercial Officer at CJ Biomaterials. "Plastic waste is one of the most significant challenges facing the world today, and Simon's tireless efforts in advocating PHA technology and how it can be used to address that challenge through the development of more sustainable solutions is critical."
For more information on CJ Biomaterials PHA technology, visit the company's new website at https://www.cjbiomaterials.com.
About CJ BIOMATERIALS
Headquartered in Woburn, MA, USA, CJ Biomaterials develops meaningful solutions that positively affect our planet, human health and well-being by addressing the challenges posed by plastic waste. The company invents and manufactures biopolymers and bio-based chemicals as part of a long-term vision to create a more sustainable future, by enabling true circular solutions that replace many non-recyclable, non-reusable and fossil fuel-based plastics and chemicals. CJ Biomaterials is a global leader in the manufacture of polyhydroxyalkanoates (PHAs)–both polymers and associated basic chemicals. CJ Biomaterials, a business unit of CJ BIO, is part of CJ CheilJedang, a global lifestyle company with a vision to inspire a new life filled with health, happiness, and convenience.
Media Contact
Resource Advantage
Dan Green
CJ Biomaterials
Heidi Lebel