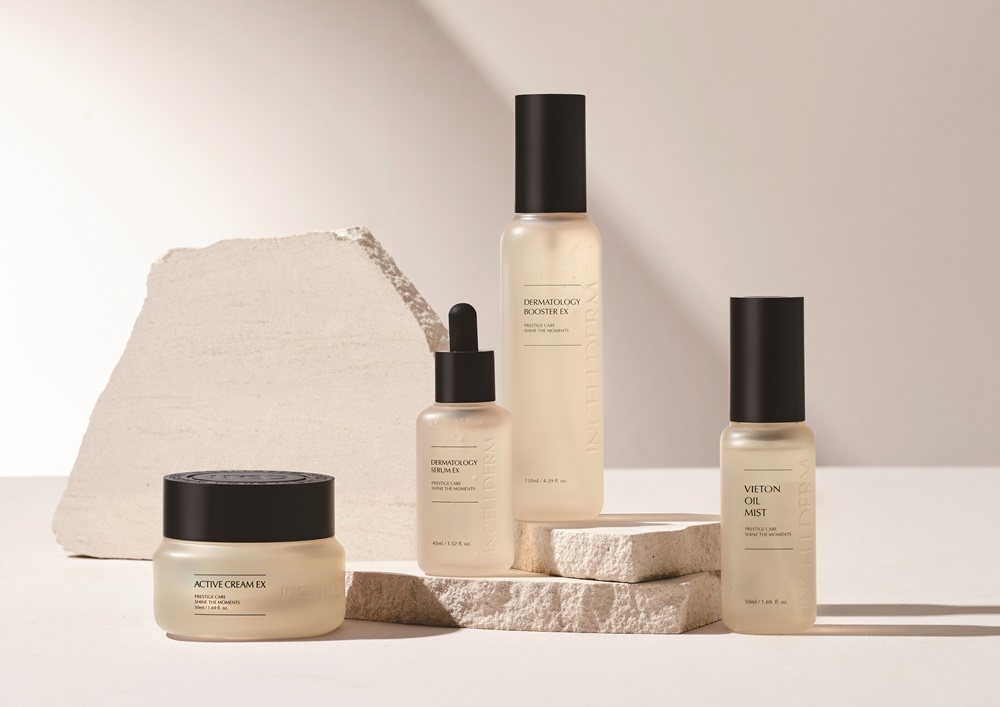 RIMAN to blend CJ Biomaterials' patented PHA technology with PLA in packaging for premium skincare INCELLDERM products
Woburn, MA – 24 August 2023 – CJ Biomaterials, Inc., a primary producer of polyhydroxyalkanoate (PHA) biopolymers and a division of South Korea-based CJ CheilJedang, is working with Riman Korea to blend its patented PHA technology with polylactic acid (PLA) to create packaging for Riman's premium line of IncellDerm products. The new packaging is more environmentally friendly and helps reduce Riman's use of fossil-fuel based packaging for its skin care products in line with Riman's sustainable packaging initiatives.
CJ Biomaterials is a global leader in the manufacture of PHAs, which are naturally derived and produced sustainably to be used as building blocks to replace and improve the functional characteristics of a broad range of polymers in the production of finished goods or as starting points for sustainable chemistry. PHAs work well as modifiers to other polymers or biopolymers and can be used to increase bio-based content, accelerate biodegradation and improve the functional properties of resins and finished products. The company produces its PHA under the brand name PHACT™, which stands for PHA + Action, demonstrating CJ Biomaterials' commitment to help preserve the planet.
"This collaboration with RIMAN showcases the versatility of our PHA biopolymers while reinforcing our commitment to reduce plastic waste and the world's reliance on petroleum-based technology," says Max Senechal, Chief Commercial Officer at CJ Biomaterials. "Together, we aim to make a significant impact on the cosmetic packaging landscape, promoting a more sustainable and eco-friendly future."
The combined PLA-PHA material will be used to package INCELLDERM Active Cream EX, Dermatology First Package Booster EX and Vieton Oil Mist, all offered through RIMAN INCELLDERM brand. These three products alone account for more than 5.4 million unit-sales each year, and the company plans to gradually expand use of CJ Biomaterials' PHA across more of its product line. CJ Biomaterials and RIMAN also intend to broaden their collaboration to develop 100% PHA solutions for injection molding applications.
"Sustainability and sustainable practices are no longer trends, but rather, necessities. To do our part in alleviating the negative impact companies have had on the planet for years, we pledge to support our environment by any means necessary and to invest in our future and in the quality of life for future generations, even with the expected increase in costs and technical challenges. This responsibility starts with adopting a 'first-of-its kind' biodegradable material to replace more than 5.4 million pieces of packaging consumed annually. By no means an easy feat, we accept this as an obligation and will actively seek ways to continue to contribute to environmental protection. To us, sustainability is not simply a goal; it's a part of who we are and who we aim to be as a personal care and wellness company, for the people, and for their planet," says Betty Perez, General Manager, RIMAN North America.
This is another in a series of collaborations CJ Biomaterials has entered to to develop products based on its PHA technology. Over the past year, the company has also announced agreements with NatureWorks, Dongil Platech, Banila Co., CJ Olive Young and others.
For more information, visit the new website at https://www.cjbiomaterials.com
About CJ BIOMATERIALS
Headquartered in Woburn, MA, USA, CJ Biomaterials develops meaningful solutions that positively affect our planet, human health and well-being by addressing the challenges posed by plastic waste. The company invents and manufactures biopolymers and bio-based chemicals as part of a long-term vision to create a more sustainable future, by enabling true circular solutions that replace many non-recyclable, non-reusable and fossil fuel-based plastics and chemicals. CJ Biomaterials is a global leader in the manufacture of polyhydroxyalkanoates (PHAs)–both polymers and associated basic chemicals. CJ Biomaterials, a business unit of CJ BIO, is part of CJ CheilJedang, a global lifestyle company with a vision to inspire a new life filled with health, happiness, and convenience.
Media Contact
Resource Advantage
Dan Green
dgreen@resourceadvantage.com
Company Contact
CJ Biomaterials
Heidi Lebel
cj.biomaterials@cj.net
About RIMAN
RIMAN is committed to self-care products based on eastern practices of holistic well-being, emphasizing the importance of slowing down and honoring oneself. Their patented technology has innovatively combined this ancient Korean skincare tradition with rare, sustainably sourced ingredients from Jeju Island to create "a difference you'll love." Their best-selling K-Beauty skincare line is scientifically-backed and designed to cleanse, hydrate, and protect the skin for a natural, radiant glow.